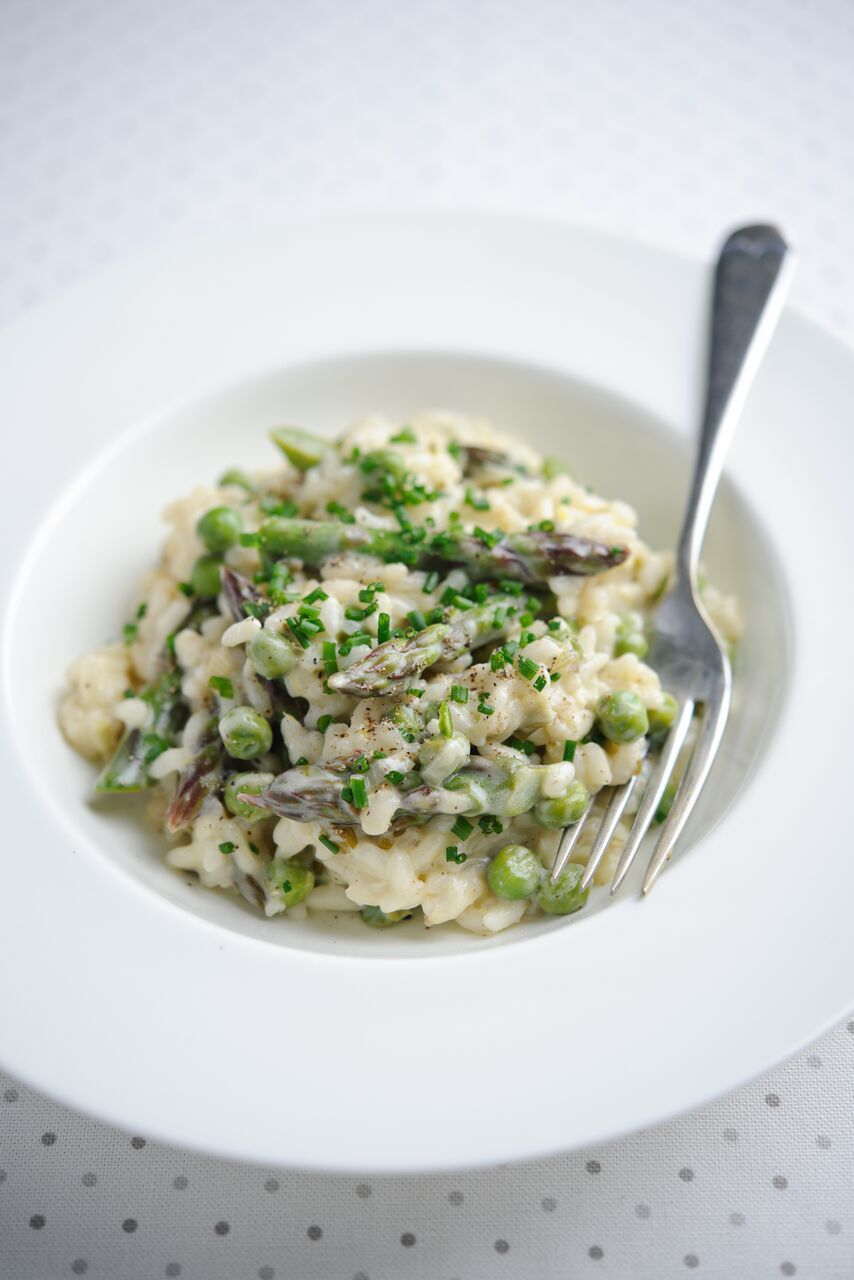 British asparagus and pea risotto with lemon and crème fraiche
Serves: 2
Preparation time: 10 minutes
Cooking time: 20-30 minutes
You'll need
600ml chicken or vegetable stock
25g butter
4 spring onions, chopped finely
2 cloves garlic, crushed and chopped
½ green chilli, de-seeded and chopped finely
150g arborio rice
½ glass of white wine half a bundle (approx. 125g) British asparagus
100g British peas
2 tbsp grated parmesan
3 tbsp crème fraiche
juice and zest of 1 small lemon
handful of chives, chopped finely
What to do
Place the stock on a slow heat and keep it there whilst you are making your risotto.
In a separate large pan melt the butter and then add the spring onions, garlic and chilli and sweat until soft for 5 minutes.
Then add the arborio rice and mix round well so it absorbs all the flavours and is well coated in butter, before adding the white wine.
When the white wine has been absorbed, add the British asparagus spears and start adding ladleful by ladleful of stock, adding the next one when the one before has been absorbed.
After 15 minutes of continual stirring and adding the stock, taste and adjust the seasoning and then add the peas. After a further 5 minutes turn the heat off, add the parmesan and crème fraiche, lemon zest and juice and let them melt in before serving and finishing off with some chopped chives.
Tone down the 'red lights' by swapping the butter for olive oil and using less and stirring in half fat crème fraiche!
Then enjoy this recipe as an occasional choice if you're cutting down on fat, saturated fat, sugar and salt e.g. for people who generally wish to eat more healthily or people who have raised cholesterol levels or diabetes
A good way to get one of your 5-a-day