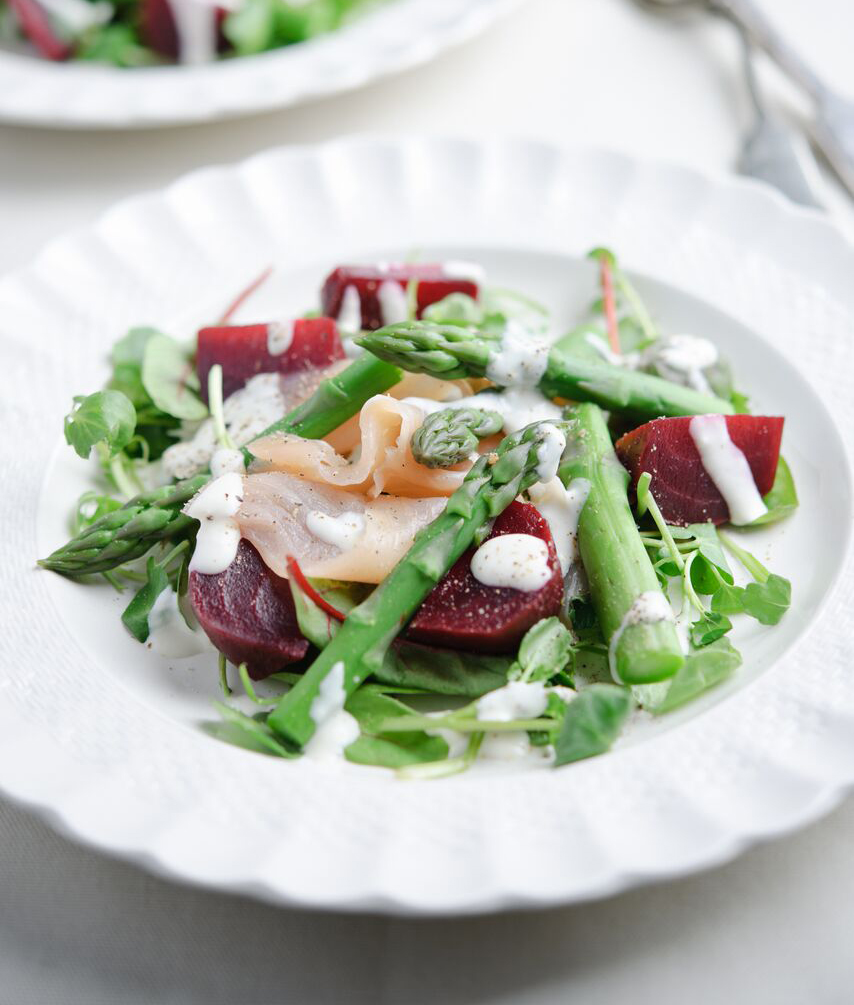 British asparagus and smoked salmon salad with a pepper dressing

Serves: 2
Preparation time: 5-10 minutes
Cooking time: 5 minutes
You'll need

for the salad
1 pack (approx. 125g) British asparagus tips
135g watercress and salad leaves
100g smoked salmon
2 pre-cooked beetroots, cut into eighths
black pepper to season
juice of 1 lemon
for the dressing
3 tbsp horseradish cream
2 tbsp yoghurt
1 tsp white wine vinegar
What to do
Place the British asparagus tips into a pan of boiling water and cook for 3-4 minutes.
Meanwhile assemble the salad leaves and watercress onto 2 small plates and lay on the smoked salmon.
Add the beetroot. Then drain the British asparagus tips and lay on top of the salad.
Finally mix the dressing ingredients together and drizzle over the salad with lots of black pepper over the top. Finish with the lemon juice.
This recipe is suitable for people who are aiming to cut down on fat, saturated fat and sugar in their diet e.g. people who generally wish to eat more healthily or people who have raised cholesterol levels or diabetes, although watch out for the salt content which is high because of the smoked salmon
It is a good choice for people watching their weight too
Combine with a chunk of granary bread for that all important energy food
A good way to get two of your '5-a-day'