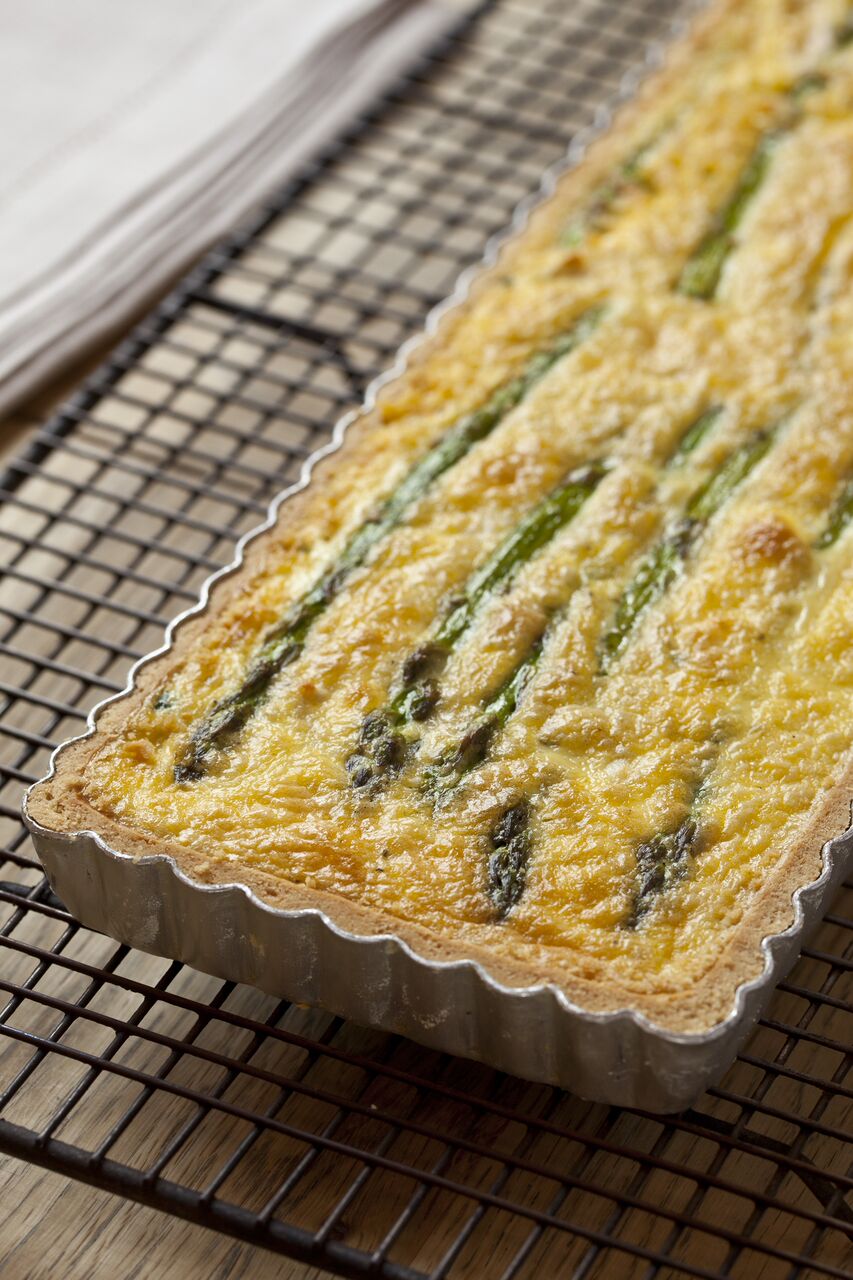 British asparagus, goat's cheese & smoked bacon quiche
Serves: 8
Preparation Time: 15 minutes
Cooking Time: 25-30 minutes
You'll need
for the pastry
250g plain flour
125g unsalted butter at room temperature, plus a little extra for greasing
1 egg
2 tbsp water (or buy readymade short crust pastry)
for the filling
30g butter
2 rashers of thick smoked back bacon (finely chopped)
6 spears of asparagus
100g of goat's cheese
300ml double cream
200ml of milk
4 medium eggs salt & pepper
2 tbsp grated parmesan
What to do
Start by making the pastry. Sift your flour into a large bowl, then rub in the butter with your fingertips until it resembles breadcrumbs.
Mix in the egg, then add to the flour and bring together with your hands. Add the water and knead on a cold floured surface until fully mixed. Then wrap in cling film and chill for 30 minutes in the fridge.
Next, preheat the oven to 190°c and remove your pastry from the fridge. Grease a loose bottomed tart case, ideally a round 20cm diameter by 3-4cm deep or a 35cm by 12cm rectangular fluted flan tin.
Roll out the pastry on a floured work surface until it's an even thickness of about ½ – 1cm.
Line the pastry tin with your pastry making sure you press into the edges of the tart case all the way round. You can use a 2cm ball of pastry to press the pastry into the tin to prevent piercing the pastry. Prick all over the pastry base with a fork, to release trapped air and stop the pastry from rising.
Now line the pastry with parchment paper, fill it with baking beans or rice. Then place onto a baking tray and bake for 15-20 minutes, then remove the beans and the paper from the case, brush the pastry with a little milk or egg wash, then pop back in the oven at 180°c for 10 more minutes until golden, remove from oven and set aside. For the filling melt the butter in a pan and add the diced smoked bacon, fry until golden brown and cooked, then set aside. Now get your asparagus spears, trim off the hard root, cut them in half lengthways then add to a hot griddle pan with a little oil and cook until charred.
Spoon the bacon mixture into the cooked pastry case, add the asparagus and crumble the goats' cheese on top.
In a jug, whisk together the cream, milk and eggs and season with salt and pepper.
Then, pour the egg mix into the pastry case, taking care not to overfill the tart. Don't worry if you have some mix left over. Sprinkle the top with the grated parmesan and bake the tart in the oven at 180°c for about 20-30 minutes until the filling is golden and the mix is set.
Cooks tip: Serve sliced generously with a side of peppery fresh watercress and buttered potatoes.