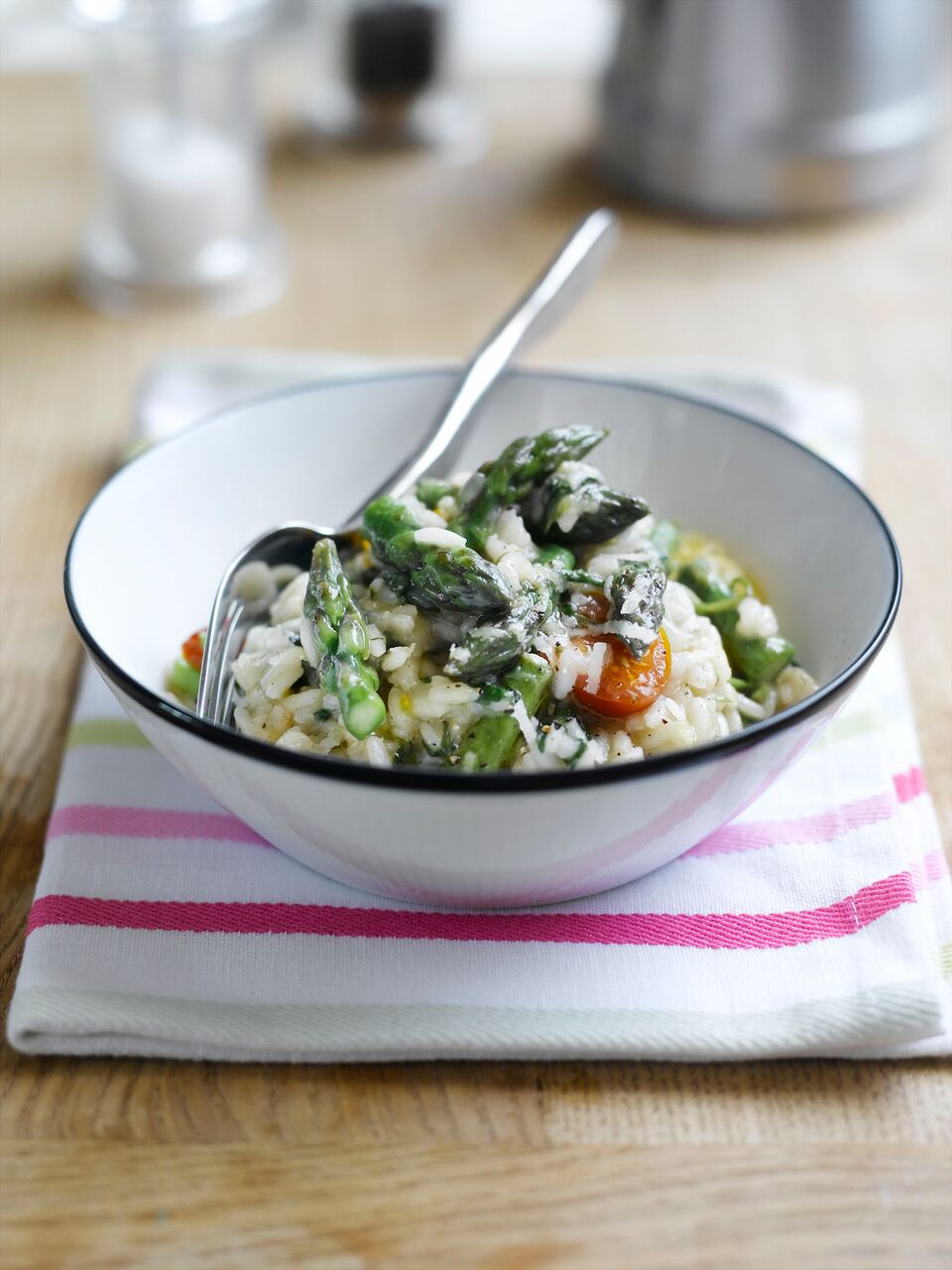 British asparagus, watercress and pan roasted cherry tomato risotto
Serves: 4
Preparation time: 15 minutes
Cooking time: 30 minutes
Cost per person: £1.93
You'll need
4 tbsp olive oil
4 shallots finely chopped
2 garlic cloves sliced
2 bundles of asparagus trimmed and cut into 3cm lengths
100g red and yellow cherry tomatoes, halved
200g risotto rice
1 small glass of white wine
1ltr hot chicken or vegetable stock,
2 bunches of watercress roughly chopped
50g lightly salted butter, cut into cubes
50g grated Parmesan
salt and cracked black pepper
What to do
In a large saucepan, heat 2 tablespoons of olive oil and then add the shallots and garlic. Sweat for 10 minutes until the shallots and garlic turn translucent without any colour.
While the shallots and garlic are cooking, heat a medium sized frying pan, add the rest of the oil. When the oil stars to smoke add the asparagus and tomatoes. Season with salt and pepper, cook for a 30 seconds or until the tomatoes start to wilt slightly, then remove from the heat and set aside.
By now the onions should be ready, stir in the rice and keep cooking and stirring until the rice has also turned translucent, then add the wine and simmer until it has reduced by half.
Now start to add the hot stock, stirring the rice every now and then until the stock is absorbed. Keep adding the stock a little at a time until the rice is cooked with a slight bite to it. About 20 minutes.
When the rice is cooked, stir in the watercress, asparagus and tomatoes. Remove from the heat and add the butter and half of the parmesan, season with salt and pepper.
Serve in warm bowls, sprinkled with the rest of the parmesan.
Wine recommendation: Dawn Davies, Sommelier at Selfridges in London suggests the following wine to go with this recipe:Pinot Grigio Pavia Pasque –Majestic Wines