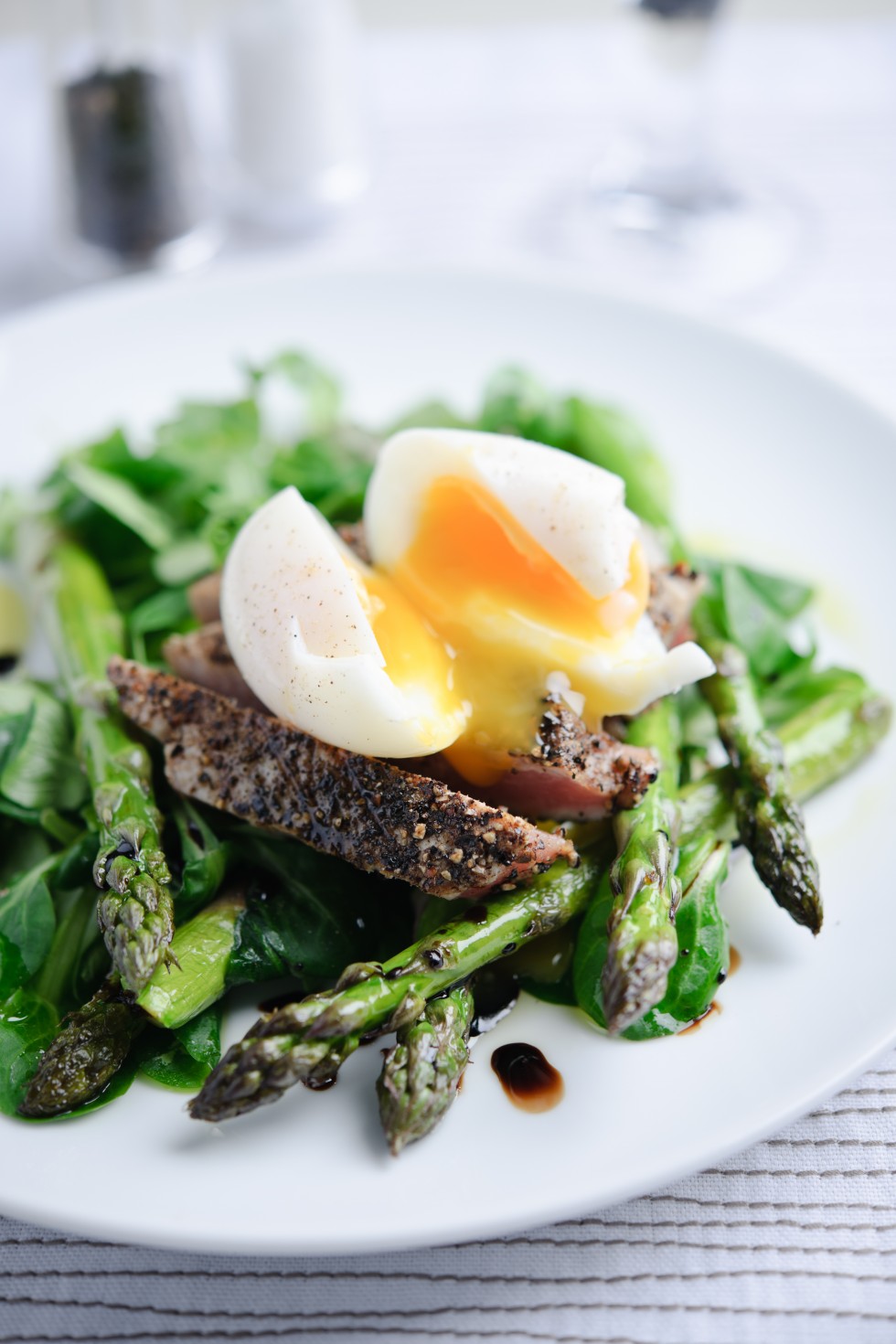 The combinations of flavours in this salad are sumptuous. The peppery heat from the soft rare tuna works well with the softly roasted asparagus and then the runny yolk blends in beautifully. A gorgeous salad for sharing and diving into with hands.
Serves: 2
Preparation time: 10 minutes
Cooking time: 10 minutes
You'll need
half a bundle (approx. 125g) British asparagus
1 green chilli, de-seeded and chopped finely
2 tuna steaks (roughly 100g steaks)
1 tbsp crushed black peppercorns
2 tbsp olive oil
2 eggs
2 handfuls mixed salad leaves
olive oil and balsamic vinegar
salt and pepper for seasoning
What to do
Pre-heat the oven to 190°C. Place the British asparagus into a baking tray, drizzle with a teaspoon of olive oil and add the chopped green chilli. Put in the oven for 8-10 minutes.
Take the tuna steaks and rub them with the crushed black peppercorns to form a pepper crust. Meanwhile place the grill pan on the heat and add a tablespoon of olive oil and wait until it heats up.
Also bring a pan of water to the boil for the eggs.
Add the tuna steaks to the hot grill pan and cook for 2 minutes on both sides for rare steaks. When cooked leave them to rest for a few minutes.
Meanwhile, drop the eggs into the boiling water and cook to your taste, 3 ½ minutes for soft boiled or 7 minutes for hard. Whilst they are cooking you can assemble the salad.
Place the salad leaves on a plate and then follow on with the British asparagus spears.
Slice the tuna on the diagonal and lay over the British asparagus and salad.
Remove the eggs from the pan with a slotted spoon, and under running water peel them. Then halve and place the soft egg around the plate. Season well with the olive oil and balsamic and enjoy.