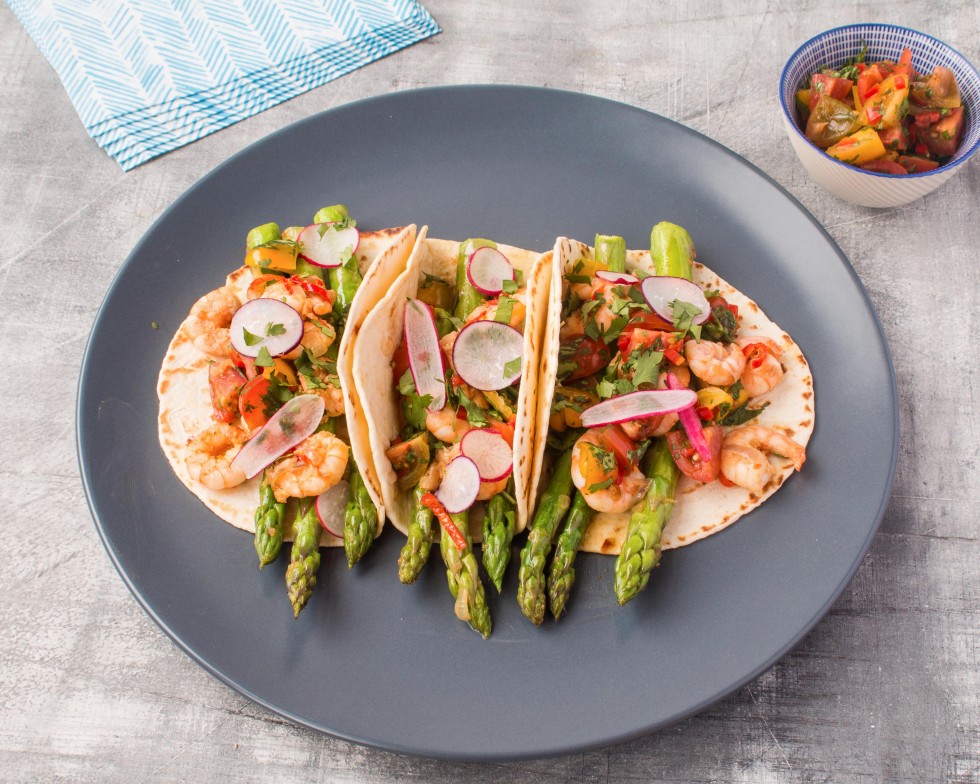 For a quick 30-minute meal, load these tacos with pan fried garlicky prawns, asparagus, fiery tomato salsa and fresh coriander and radish.
Serves: 2
Preparation time: 5 minutes
Cooking time: 15-20 minutes
You'll need:
200g mixed colour cherry tomatoes
2 red chillies
Small bunch of coriander, just the leaves
Zest and juice of 1 lime
1 tbsp olive oil
Salt and freshly ground black pepper
2 shallots
2 garlic cloves
2 knobs of butter
150g raw king prawns
250g British asparagus
4 small tortilla wraps
3 radishes, finely sliced
What to do:
Roughly chop the tomatoes and place into a small bowl. Finely slice 1 chilli and half the coriander and add to the tomatoes with the zest and juice of 1 lime and a drizzle of olive oil. Stir well, season with salt and pepper and set aside to allow the flavours to develop.
Meanwhile, finely chop the shallots and remaining chilli and crush the 2 garlic cloves. Place a medium sized frying pan on the heat and melt the butter. Once hot, add in the shallots, garlic and chilli and fry until softened. Add the prawns and cook until pink all over.
Once the prawns are cooked, remove from the pan and set aside. Add the asparagus into the same pan and pan fry for 3-4 minutes.
While the asparagus is cooking, heat up the wraps either in the microwave or a dry frying pan.
Once everything is ready, assemble the tacos, first with the asparagus then the prawns and tomato salsa. Top with the remaining coriander leaves and finely sliced radishes.