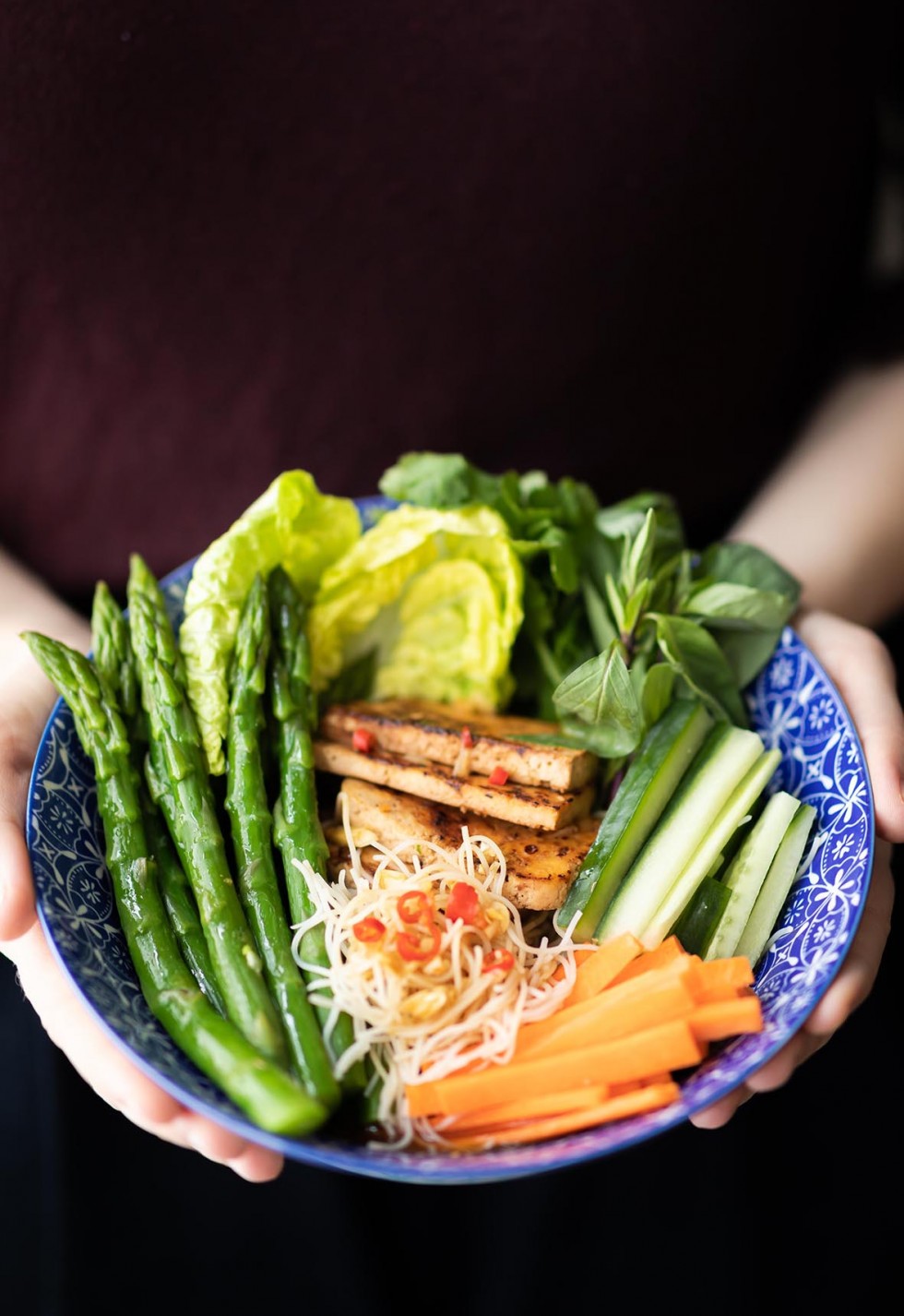 Serves: 2
Preparation time: 10 minutes
Cooking time: 10 minutes
You'll need:
For the tofu marinade:
1 large shallot, finely diced
2tbsp light brown sugar
3tbsp soy sauce
5tbsp water
Black pepper
1 pack firm tofu, sliced
For the dressing:
2tbsp soy sauce
2tbsp rice vinegar
1 tsp soft brown sugar
100ml vegetable stock
1 red chilli, finely chopped
2 cloves garlic, crushed
1 lime, juiced
For the noodles:
1 bunch asparagus washed, trimmed and blanched
100g vermicelli noodles, cooked
4 sprigs mint
1 carrot, cut into fine strips
1 cucumber, cut into fine strips
1 little gem lettuce broken into leaves
Handful of coriander and/or Thai Basil
What to do:
In a bowl large enough to accommodate the tofu, mix the shallots, 2 tbsp sugar and 3 tbsp soy sauce with a little water to help mix.  Add a grind of black pepper and add the sliced tofu and marinade for 5-10 minutes.
In another bowl mix 2 tbsp soy sauce with the rice vinegar, 1tsp of soft brown sugar and vegetable stock.  Add the chilli, garlic and lime juice. This is your dressing.
Heat a frying pan.  Take the tofu out of the marinade and fry it in the pan, turning it to caramelise on each side. Once it's done, pour the excess marinade over the tofu and let it bubble briefly.
Put the noodles into the bowls you are going to serve the salad in, then add a little dressing.  Top with the asparagus and vegetables, add the tofu and herbs such as coriander and mint. Finish with the dressing.