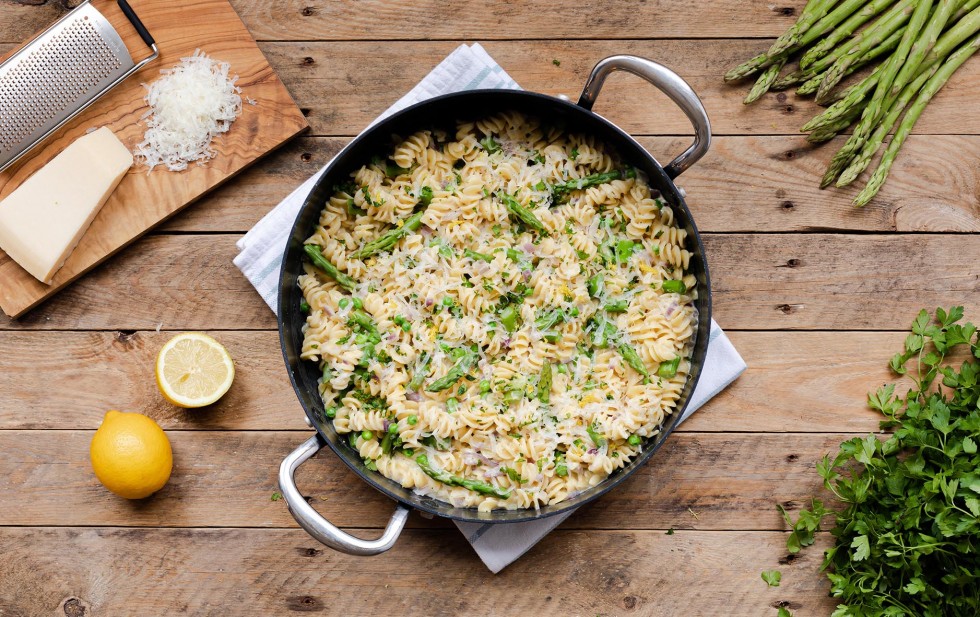 Serves: 4
Preparation time: 10 minutes
Cooking time: 30 minutes
You'll need:
250g pasta shapes
1 bunch asparagus, washed and trimmed
150g frozen peas
1 tbsp olive oil
1 red onion, chopped
4 cloves garlic, crushed
1 tbsp plain flour
100ml vegetable stock
200 ml milk
75g cream cheese
3 tbsp Parmesan cheese
Salt & pepper
2 tbsp chopped flat leaf parsley
What to do:
Cook the pasta as per the instructions on the pack.  In the last three minutes of cooking time, add the asparagus and peas to the pasta pot.  Cook until the pasta is al dente and the vegetables cooked, then drain.
To make your sauce, heat the olive oil in a large pan over a medium heat.  Cook the onion and garlic until soft, approximately five minutes.  In a ramekin, combine the flour and stock and mix until smooth and then add to the onion mixture in the pan.  Whisk in the milk and bring to a simmer.  Stir in the cream cheese and Parmesan and season.
Stir the pasta and vegetables into the hot sauce and serve with the chopped parsley sprinkled over and a little extra Parmesan.