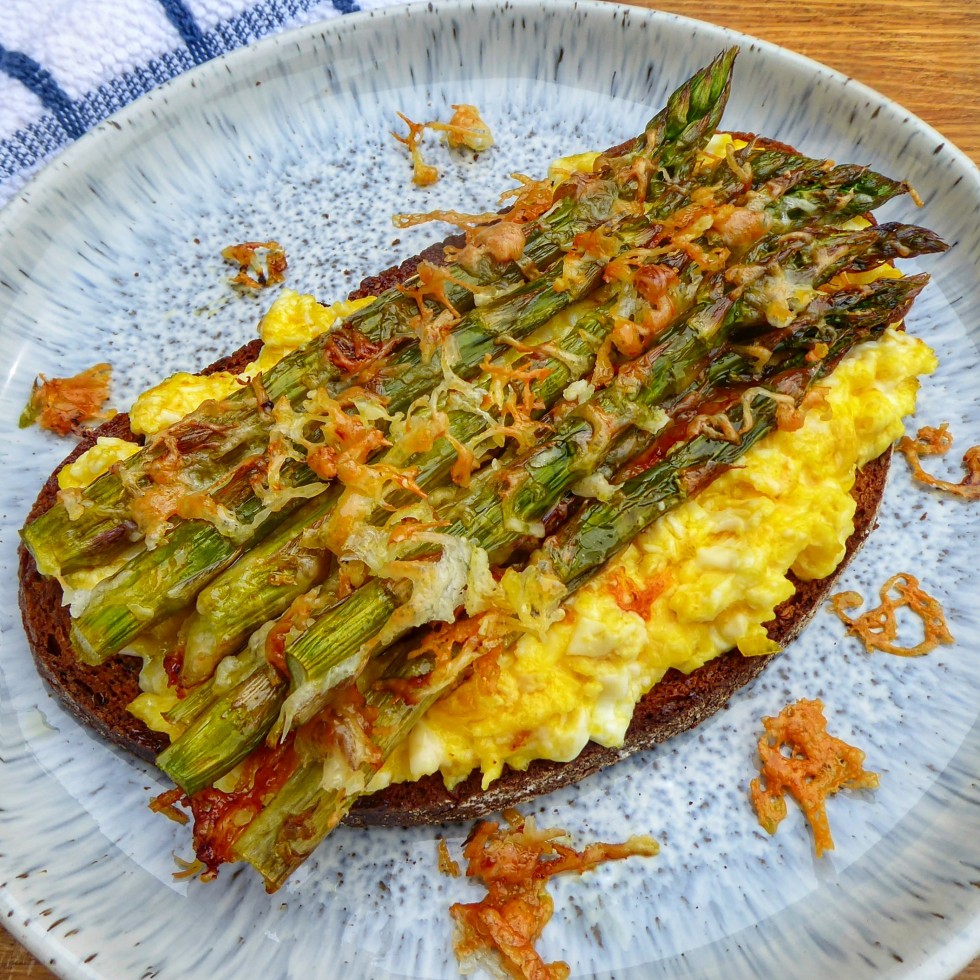 Serves 1
100g British asparagus
Olive oil to drizzle
Juice of ½ a lemon
30g grated Gruyere cheese (or mature cheddar)
1 tsp of oil or butter
2 eggs
Salt for seasoning
½ tbsp double cream
Slice of bread (sourdough works best)
Wash 100g asparagus then gently bend the spears until the woody end snaps off.
Preheat your oven to 180C. Arrange the asparagus in a single layer on a lined baking tray, drizzle with a little olive oil, then toss so the spears are evenly coated. Squeeze over the juice of half a lemon and sprinkle over 30g grated Gruyere cheese (if you don't have Gruyere, mature cheddar is also delicious). Roast for 15-20 minutes or until tender.
For the scrambled eggs, heat a non-stick pan with a little oil/butter and crack in 2 eggs. Add a pinch of salt and 1/2 tbsp double cream, then cook slowly over a low heat, gently stirring with a spatula. Just before the eggs are cooked, remove from the heat (they carry on cooking from the residual heat of the pan so by the time you serve they'll be perfect).
Toast a slice of bread, then add the scrambled eggs and roasted asparagus, making sure to add any crispy bits of cheese that are left on the baking tray. Serve and enjoy!
Recipe and photo credit: @WhatIAteForBreakfast