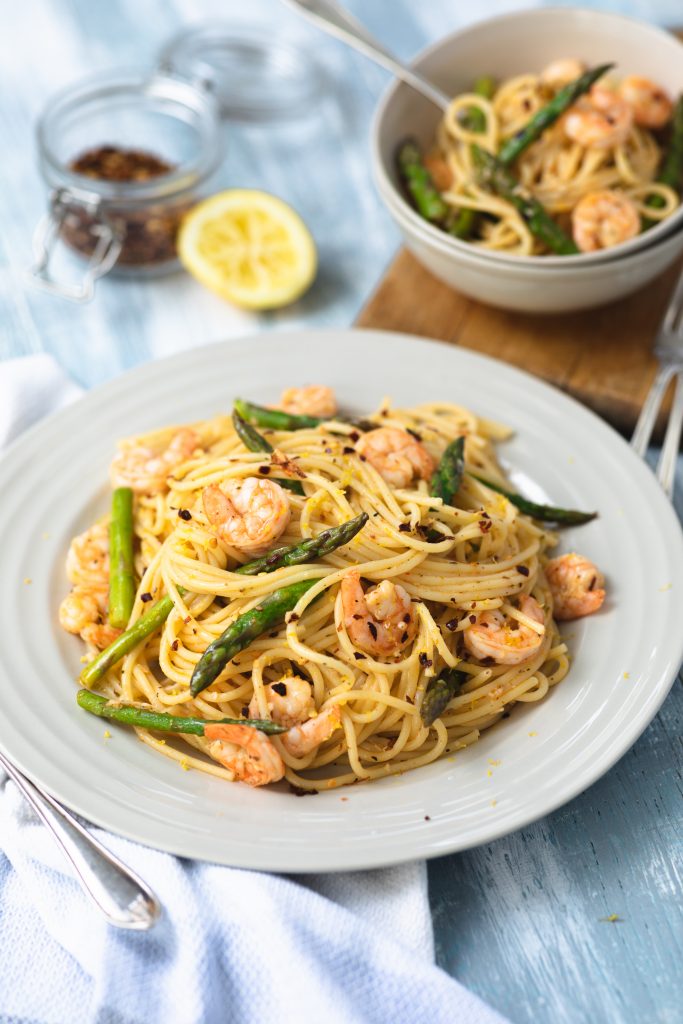 Serves: 2
Preparation time: 5 minutes
Cooking time: 10 minutes
You'll need
250g spaghetti
250g British asparagus
1+1 tbsp butter
1+1 tbsp olive oil
3 cloves of garlic, crushed
200g raw prawns
¼ tsp Italian seasoning
Sea salt & black pepper
60ml vegetable stock
1 tsp sriracha
Juice of ½ a lemon
½ tsp crushed chilli flakes (optional)
What to do
Put the spaghetti on to boil in a large pan of salted boiling water.
Trim the asparagus and cut each spear into three.
Heat 1 tbsp butter and 1 tbsp oil in a frying pan and add the garlic and fry for a minute and then add the asparagus. Tossing in the pan for a couple of minutes. Remove the asparagus and set aside.
In the same pan add another 1 tbsp butter and 1 tbsp oil and add the prawns. Cook for a minute each side until turning pink. Then add the Italian seasoning, salt & pepper, stock, sriracha, lemon juice and chilli flakes, if you are using them and allow the pan to bubble. Stir the asparagus back in.
Drain the spaghetti, reserving some of the cooking water and toss it through the mixture in the pan, adding some of the cooking water if you feel it needs to be a bit looser. Serve immediately.