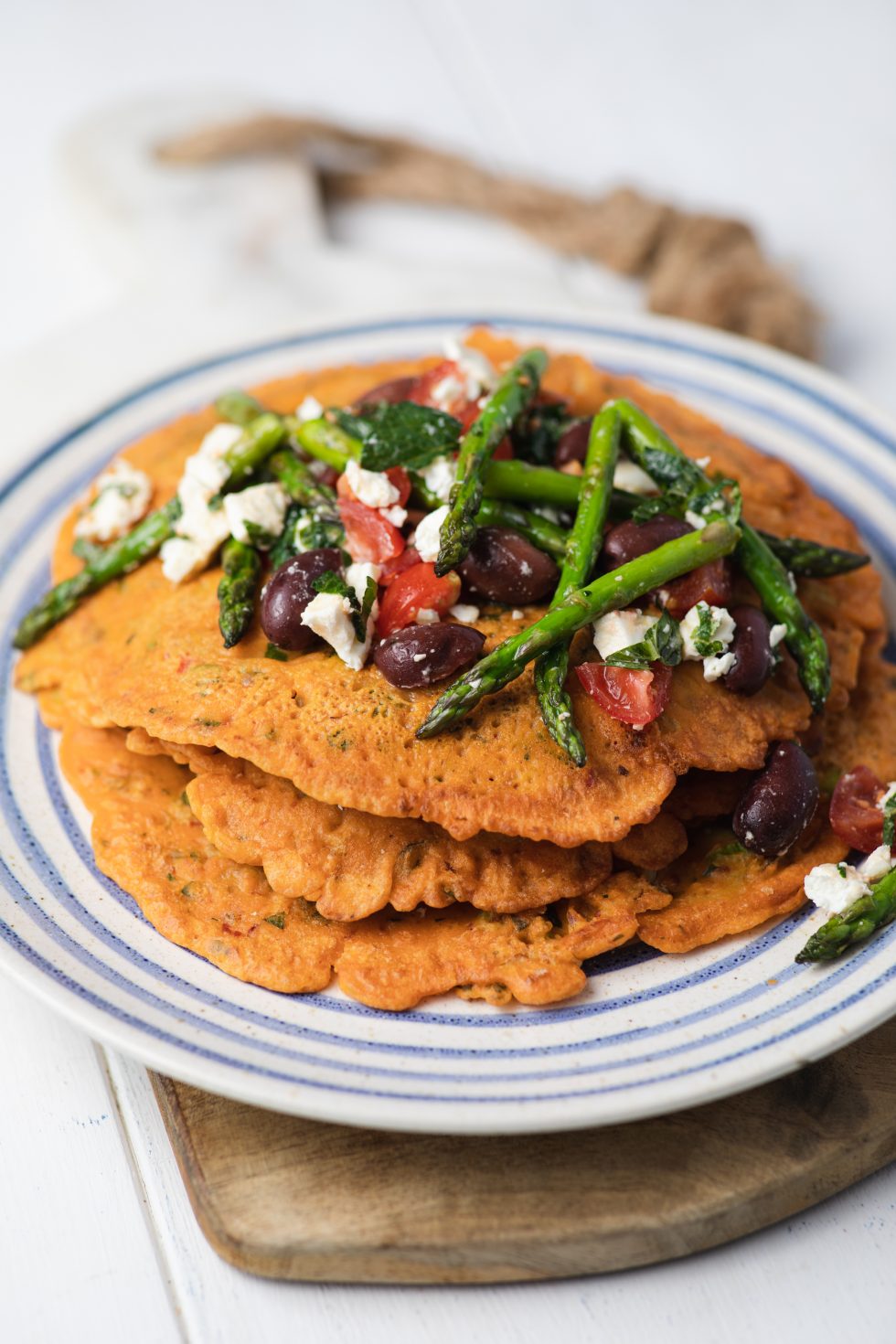 Serves: 2
Preparation time: 15 minutes
Cooking time: 30 minutes
You'll need:
250g British asparagus
A bunch of spring onions
135g plain flour
60g gram flour
Salt
1 egg
325ml water
2 tbsp harissa (we like Belazu)
2 tbsp coriander leaves, chopped
12 cherry tomatoes
12 black olives
100g feta, crumbled
Small handful mint, chopped
1 tbsp olive oil
Sea salt & black pepper
50ml vegetable oil
What to do:
Wash and trim the asparagus and spring onions. Cut the tips off the asparagus and leave to one side and finely slice the asparagus stems and the white part of the spring onions.
Mix the flour, gram flour and half a teaspoon of salt in a large bowl. In a separate bowl lightly whisk the egg, water, harissa and coriander. Make a well in the dry ingredients and slowly pour in the wet ingredients. Whisk until smooth and then stir in the finely chopped asparagus and spring onions.
Chop the cherry tomatoes into halves or quarters and combine in a small bowl with the olives, feta and mint.
Put a frying pan on a medium heat and add the olive oil. Throw in the asparagus tops and sauté in the olive oil until just tender. Season and add them to the bowl with the tomatoes, olives and feta.
Turn the oven on low.
Pour a tablespoon of vegetable oil into the frying pan and swirl it around. Pour a quarter of the pancake batter into the pan and swirl it to cover the base. Cook for a couple of minutes on one side and then flip and cook the other side. Put the pancake in the warm oven and repeat so that you have four pancakes.
Put a couple of pancakes on each plate, top with the asparagus tips, tomatoes, olives and feta and serve immediately.