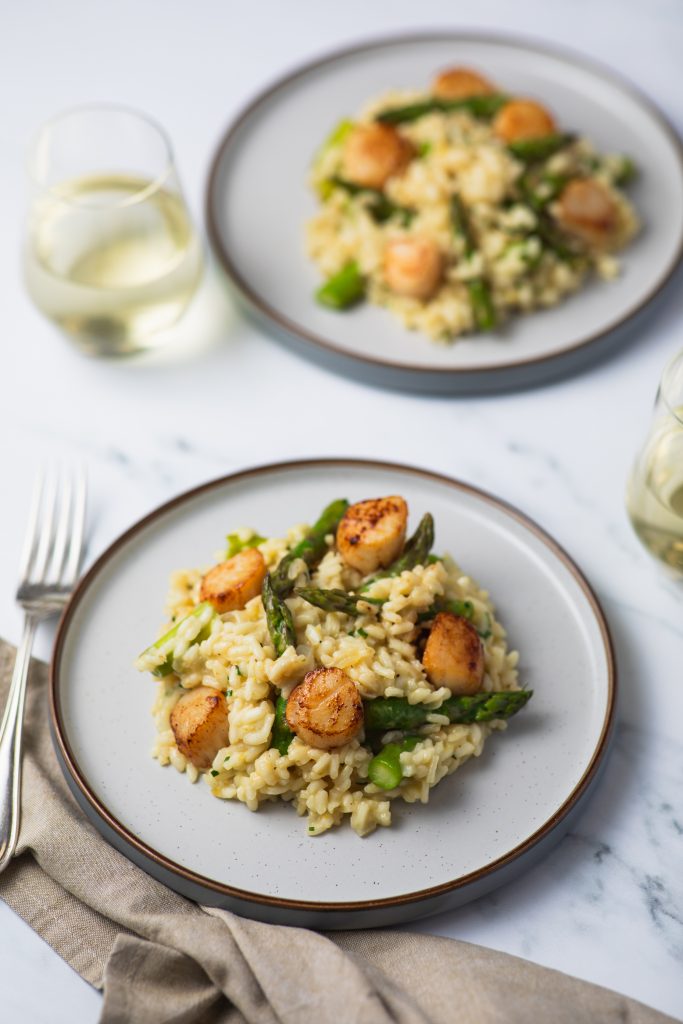 Serves: 2
Preparation time: 10 minutes
Cooking time: 40 minutes#
You'll need:
250g British asparagus spears, trimmed and cut into thirds
30g butter
2 echalion shallots, chopped finely
1 garlic clove, crushed
200g arborio rice
60ml white wine
500ml hot fish or vegetable stock
A further 20g butter
200g scallops, dried on kitchen paper and seasoned
Finely grated rind of a lemon
2 tbsp chopped chives
Sea salt and black pepper
50g Parmesan cheese
What to do:
To start, bring a pan of water to boil and briefly blanch the asparagus. Drain the asparagus and refresh in cold water, set to one side.
Melt the butter in a large pan. Add the chopped echalion and garlic and cook gently until soft, for about five minutes.
Add the rice and allow to cook, stirring for a minute or so, then pour in the wine and allow to bubble.
Add a ladleful of hot stock and stir until absorbed, keep going until all the stock is incorporated.
When the risotto is almost ready, add the asparagus and give it a stir. Put a lid on, turn the heat off and let it rest.
Heat the butter in a frying pan and when foaming, put the scallops in the pan and allow to cook for a couple of minutes until they are nicely browned. Turn them over and cook on the other side.
Meanwhile add the lemon zest, chopped chives and seasoning to the risotto.
Serve the risotto in wide bowls with the scallops on top and Parmesan on the side, to sprinkle.