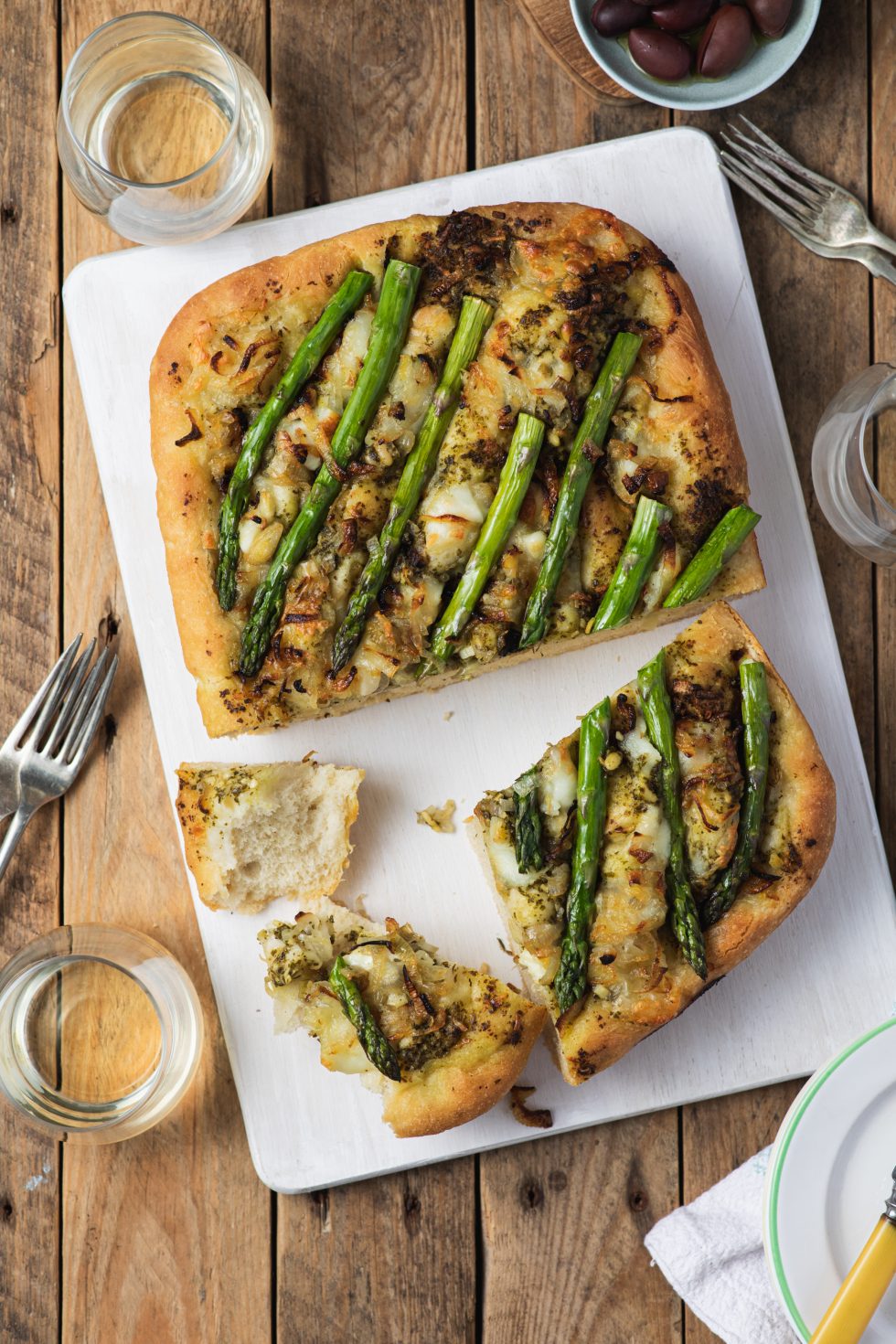 Serves: 8-10
Preparation time: 5 minutes
Cooking time: 10 minutes
You'll need:
500g strong bread flour
7g fast action yeast
2 tsp fine salt
2 tbsp olive oil plus extra for the tin
150g British asparagus
1 tbsp olive oil
2 echalion shallots
200g buffalo mozzarella
2 tbsp fresh green pesto
What to do:
In a large mixing bowl combine the flour, yeast and salt and make a well in the middle. Add 2 tbsp olive oil and 350ml lukewarm water and stir to make a sticky dough. You may need slightly more or slightly less water.
Turn the dough out onto a floured work surface and knead for 5-10 minutes until it is soft and springy. Put it in a clean, oiled bowl and leave for 1 hour, covered with a tea towel to prove.
Peel and slice the shallots and sauté gently in 1 tbsp olive oil for five minutes or until softened but not taking on too much colour.
Oil a baking tin (approx 25x35cm). Tip the dough out and shape it to fit the tin and leave, covered for another 30-40 minutes.
Preheat the oven to 220⁰c.
Trim the asparagus and break the buffalo mozzarella into small pieces.
Make holes in the bread dough with your fingers and spread it with the pesto and with the shallots. Pop the pieces of mozzarella into the holes.
Bake the bread in the hot oven for 20 minutes. Carefully remove it and push the asparagus spears into the hot dough, quickly sprinkle with sea salt and return to the oven for a further ten minutes or until the bread is cooked and the cheese is bubbling.
The asparagus spears should be cooked through, still green, with slightly charred tips.